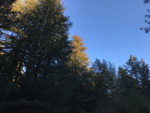 We are indeed the
only
RV park with direct access to Henry Cowell Redwood State Park, with 30 miles of incredible hiking through untouched "old growth" and "second growth" redwood forest. You can also enjoy the San Lorenzo River, with many spots for swimming and wading in with children. Or take a hike down to the famous "Garden of Eden", where you will find sandy beaches and massive boulders.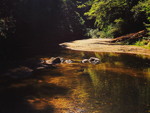 You can use our online park map to locate and access any one of three trail heads ...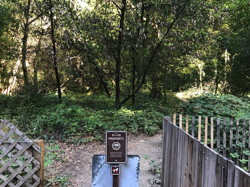 Behind the basketball court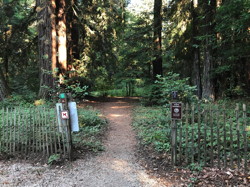 Next to site 28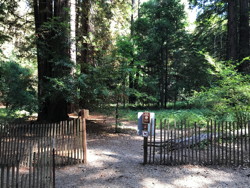 Next to site 35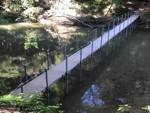 There is also a foot bridge just outside the RV Park, which provides direct access to the state parks main Redwood Grove Trail ... a spectacular .8 mile walk. On this trail you will find the tallest tree in the park standing approximately 277 feet tall, about 16 feet wide, and around 1,500 years old. This bridge is installed in the late spring, and removed in the fall (end of May to mid-October) before the rainy season begins. You may occasionally spot small fish, and ducks swimming by.