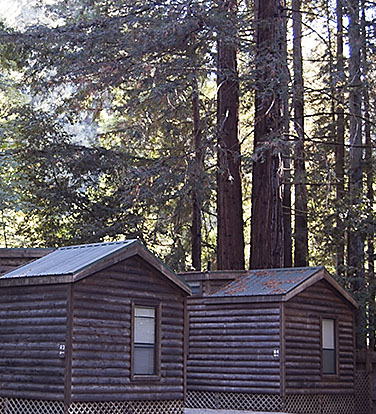 River Cabins
With views overlooking the San Lorenzo river, our River Cabins are perfect for families looking for a chance to enjoy the crisp, clean air and blue skies without needing to bring a tent or an RV. Our River Cabins include a bedroom with a full size bed, a kitchenette (refrigerator, microwave, and coffee maker), bathroom with shower, and a family room with a futon, TV, and fireplace (DuraFlame logs only please). There's also a loft where the kids can sleep! (Loft weight limit is 150 pounds)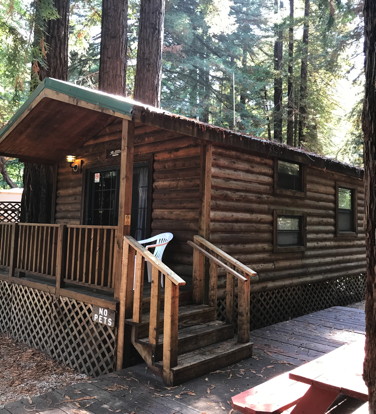 Forest Cabin
Our Forest Cabin includes a kitchenette (refrigerator, microwave, and coffee maker), bathroom with shower, and a family room with TV, futon, and bunk beds for a cozy family sleeping arrangement. This cabin also includes a loft where the kids can sleep! (Loft weight limit is 150 pounds)
Nestled between the giant Redwoods, enjoy the awesome Mediterranean-like weather while sitting on your semi-secluded deck, with a great view into Henry Cowell Redwoods State Park.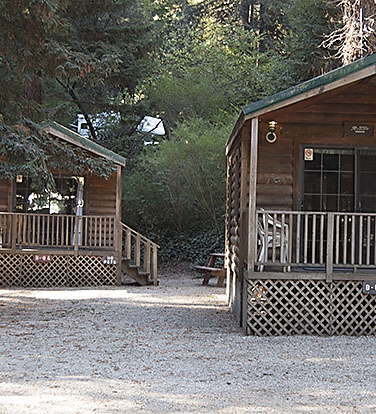 Barebones Cabins
Our Bare-bones cabins include a bedroom with a full size bed, a bedroom with bunk beds, and a family room with futon and TV. An economical way to enjoy a night in a cabin beneath the Redwoods of the Santa Cruz Mountains, these cabins are great options for those without RV or tent. Please Note: The Bare-bones cabins do NOT have a bathroom or shower, but are right around the corner from our main bath house.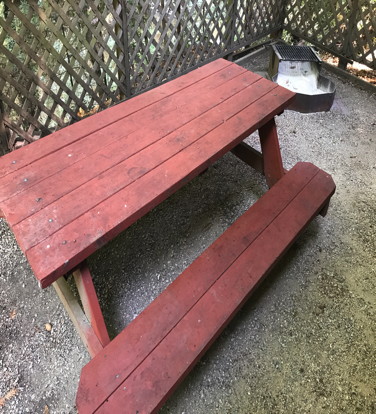 Outdoor Amenities
All of our cabins have an outside fire pit (with grill), a picnic table, and two chairs on the porch.




Our cabins are camping cabins. You will need to bring your own:
Bed Linens
Blankets
Pillows
Towels
Toiletries (for cabins with bathrooms)
Kitchenwares (for cabins with kitchenette)
Please no hot plates, electric skillets, fryers, or portable gas stoves of any kind are to be used within the cabins. No pets are allowed inside or outside the cabin rental unit site. Pets cannot stay in any vehicle parked on the cabin rental unit site.